Year Completed
2003

Summary of Work
Designed and developed the site.

Copyright © 2001
YNOT Media
All rights reserved










Viewfinders Motorcycle Club
The VIEWFINDERS MOTORCYCLE CLUB is an off road motorcycle club based in Southern California. The club is a sanctioned member of the A.M.A district # 37. Members of the VIEWFINDERS enjoy racing Enduros, Gran Prixs, Hare Scrambles, Hare & Hounds and Motocross.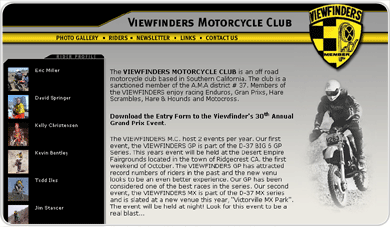 Launch Site