Year Completed
1999

Summary of Work
Using a contracted design firm, developed the site for Internet Promotions.

Copyright © 2001
YNOT Media
All rights reserved










California Artichoke Advisory Board
The California Artichoke Advisory Board (CAAB) was organized in 1960 under the California State Marketing Order Act administered by the California State Department of Food and Agriculture, after growers voted to assess themselves to pay for formation and continuing operational costs including state oversight. The Marketing Order for Artichokes is voted on every five years and the current order is in effect until 2004. A hearing will be held in January of 2004 to hear testimony for continuance or dissolution.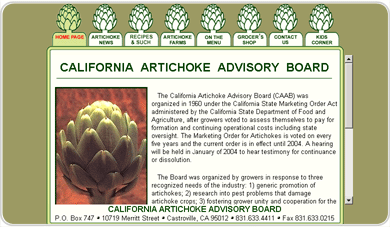 Launch Site